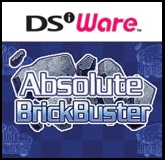 Absolute BrickBuster is an action breakout game for the Nintendo DS made by Tasuke. It is rated E.
Gameplay:
Edit
Classic brick game action is here on the Nintendo DSi system! There are two modes of play in Absolute BrickBuster: Free Play and Challenge. You pick one of eight characters and set special items to play at your own pace in Free Play Mode. The special items include different balls with special attributes, expandable paddle, and paddle tilt. There are 10 stages in all. Each even-numbered stage gives you a mission, and the result of the mission will determine the level of the next two stages you will play. In Challenge Mode, different levels of missions are given—clear them to advance in the game.
Ad blocker interference detected!
Wikia is a free-to-use site that makes money from advertising. We have a modified experience for viewers using ad blockers

Wikia is not accessible if you've made further modifications. Remove the custom ad blocker rule(s) and the page will load as expected.