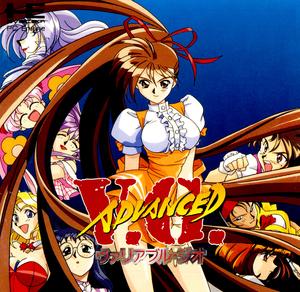 Advanced V.G. is a fighting game for the Sega Saturn and original Turbo Grafx CD and PlayStation. It was later ported to the PlayStation 3. The game is part of the Variable Geo series and is a fighting game.
Gameplay:
Edit
Variable Geo is a "fan-service-filled" game where gamers battle their way past each of the game's all-female combatants (who are all waitresses and represent their home's restaurant in combat in an effort to raise customer interest) on the way to the title of Virgin Goddess.
Differences:

Edit
The only major difference between the two versions is that the Saturn version retains the "Graphic Mode" setting which allows the viewing of the hentai scenes. This option was omitted from the PlayStation version.
Ad blocker interference detected!
Wikia is a free-to-use site that makes money from advertising. We have a modified experience for viewers using ad blockers

Wikia is not accessible if you've made further modifications. Remove the custom ad blocker rule(s) and the page will load as expected.