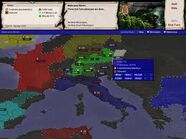 Aevum Obscurum is a strategy game for PC and iOS made by Noble Master Games.
Overview:
Edit
Aevum Obscurum a risk-like turn-based strategy game where you take the reigns of a budding empire and struggle for domination of the old continent. The iPhone version of the game offers single player game-play on a map featuring Europe. Six scenarios are available ranging from ancient to medieval Europe. The scenarios contain a total of over fifty empires to choose from including the Kingdom of England, Kingdom of France, Byzantine Empire, Sultanate of Egypt, Kingdom of Jerusalem, Celtic Tribes and Ancient Macedonia.
This game is available for play through the Android Market.
Ad blocker interference detected!
Wikia is a free-to-use site that makes money from advertising. We have a modified experience for viewers using ad blockers

Wikia is not accessible if you've made further modifications. Remove the custom ad blocker rule(s) and the page will load as expected.