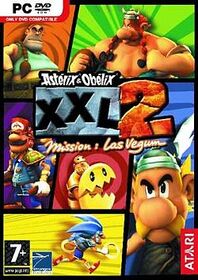 Asterix & Obelix XXL 2: Mission: Las Vegum is a action adventure game for the PlayStation 2 and PC. It was later remade for the PSP and Nintendo DS. This article is for the PlayStation 2 and PC versions.
Asterix & Obelix XXL 2: Mission: Las Vegum is noted for parodying many games. The main game it parodies is Grand Theft Auto: San Andreas and has been specifically known for that. It is the sequel to Asterix and Obelix XXL.
Overview:
Edit
Asterix & Obelix XXL 2: Mission Las Vegum takes you on an action-packed tour of the astonishing "Las Vegum" theme park. In this original scenario, Getafix the famous druid is behaving very strangely, and all the other renowned druids of the Roman Empire have disappeared... Las Vegum, "the city of games," is the brainchild of the visionary Julius Caesar. Its labyrinthine streets will lead you through the districts of Little Paris, WCW, LuckSore, Little Venetia, Pirate Island, and even SeizeUs Palace. Along the way, the program is packed with pumped-up Romans alongside some curiously familiar characters paying tribute to the wider world of games. And who other should top the bill than Centurion Larry Craft — who insists on jumping around in canvas shorts, rather than wear a skirt like everybody else. Fortunately Asterix and Obelix can count on the aid of a repentant Roman spy with inside knowledge of new-fangled techniques: Sam Shieffer.
Ad blocker interference detected!
Wikia is a free-to-use site that makes money from advertising. We have a modified experience for viewers using ad blockers

Wikia is not accessible if you've made further modifications. Remove the custom ad blocker rule(s) and the page will load as expected.