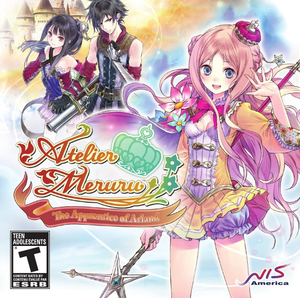 Atelier Meruru: The Apprentice of Arland is a role playing game for the PlayStation 3. It is rated Teen, made by NIS and is the last game in the Atelier Meruru series.
Meruru is the princess of Arls, a little kingdom situated in the far north of the Arland republic. After her father and Gio, the leader of Arland, discussed the merging of the two lands, she met Totori, the now-graduated alchemist. Dazzled by the power of alchemy, and with a desire to help her country prosper, she forced herself on Totori as her first student. Rorona also joins the two but has been turned young by her master Astrid after drinking an experimental potion of youth.
Reception:
Edit
The game sold well in Japan but did not sell well in America and was not received by critics well in America.
Ad blocker interference detected!
Wikia is a free-to-use site that makes money from advertising. We have a modified experience for viewers using ad blockers

Wikia is not accessible if you've made further modifications. Remove the custom ad blocker rule(s) and the page will load as expected.