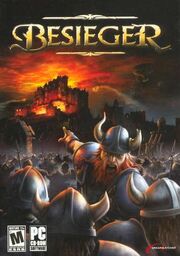 Besieger is a strategy game for the PC made by DreamCatcher Interactive. It is rated M.
Gameplay:
Edit
Besieger introduces a world filled with feudal rivalry in which players can wage war as either Viking or Cimmerian warriors. Build flying vehicles for combat or siege towns on horseback in an effort to conquer factions such as Ogres, Werewolves, Centaurs, and other non-human races. The armored walls of a citadel can be shattered using a battering ram and competitors can pocket enemy buildings and equipment. Players can also retreat and accumulate forces behind their own armored citadel for a counterattack. Progressive economics allow players to spend resources constructing 40 types of buildings and honing over 50 different units for battle. Workers are created without cost to the player but must be trained for fighting and other special skills. This experience and fighting efficiency carry over as levels are defeated.
Ad blocker interference detected!
Wikia is a free-to-use site that makes money from advertising. We have a modified experience for viewers using ad blockers

Wikia is not accessible if you've made further modifications. Remove the custom ad blocker rule(s) and the page will load as expected.