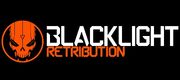 Blacklight: Retribution
is a futuristic first-person shooter, a sequel to
Blacklight: Tango Down
. It is developed by Zombie Studios and published by Perfect World. The focus is on a highly customizable character and weapon system that unlocks upgrades one at a time as players level up. It is based on a free-to-play business model. Despite being free, it is not "pay 2 win", as almost all weapons can be permanently bougth with in-game currency that is earned by playing. Real money is mostly used for creating an individual look, though it will also unlock items regardless of the player's level, thus saving time, but not overpowering a player forever.
The game was released on 3 April 2012. On 2 July 2012, it was also made available on the distribution platform Steam. New content is being released into the game on a regular basis. The game can currently be played in English, French and German.
Official Trailer
Edit
Ad blocker interference detected!
Wikia is a free-to-use site that makes money from advertising. We have a modified experience for viewers using ad blockers

Wikia is not accessible if you've made further modifications. Remove the custom ad blocker rule(s) and the page will load as expected.