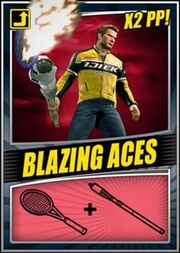 Blazing Aces is an item in the Dead Rising series. It is in Dead Rising 2 and Dead Rising 2: Case West. It is a combination of a tiki torch and a tennis racket.
Even though the tennis racquet is all metal and plastic for the string, it somehow stays engulfed in flames, though the flames might be from the tiki torch. In real life, the strings will quickly warp, melt and snap when exposed to a heat source.
Ad blocker interference detected!
Wikia is a free-to-use site that makes money from advertising. We have a modified experience for viewers using ad blockers

Wikia is not accessible if you've made further modifications. Remove the custom ad blocker rule(s) and the page will load as expected.