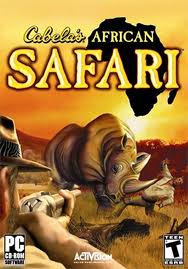 Cabela's African Safari is a teen rated game made by Activision for the PlayStation Portable, Xbox 360, PC, and PlayStation 2. It is part of the Cabela's series and was released on November 21, 2006. It is a first person hunting simulator game.
Game modes
Edit
Instant Hunt
Big Five
Open Safari
Safari Hunt
Wing Shooting Practice, Tournament and Hot Seat (Multiplayer)
Game rifles (with animals)
Edit

.243/.243 custom (Duiker, Red Duiker, Klipspringer, Springbok, Steenbuck)
.270 (Bushbuck, Reedbuck, Impala, Nyala, Warthog)
.300/.300 custom (Wildebeest, Hartebeest, Lechwe, Ostrich, Baboon, Hyena)
.338 (Zebra, Waterbuck, Sable, Kudu, Gemsbok, Eland)
.375 (Leopard, Cheetah)
.416/.416 custom (Cape Buffalo, Lion)
Game Animals
Edit
Non-Game Animals
Edit
Game Modes
Edit
Single Player
Edit
Instant Hunt
Big Five
Open Safari
Safari Hunt
Tournament
Winged Shooting Practice
Multiplayer
Edit
Cabela's Gun Library
Edit
.243/.243 Custom Bolt Rifle
.270 Bolt Rifle
.300/.300 Custom Bolt Rifle
.338 Bolt Rifle
.375 Bolt Rifle
.416/.416 Custom Bolt Rifle
.505/.505 Custom Bolt Rifle
.600 Bolt Rifle
.410 Over & Under/.410 Over & Under Custom Shotgun
.12 Gauge/ .12 Gauge Custom Shotgun
.505/.505 custom (Rhino)
.600 (Elephant)
Game Shotguns (with birds)
Edit
.410 o & u/.410 o & u coustom (Turtle dove, Rock Pigeon)
.12 gauge/ .12 gauge custom (Egyptian goose, Spur-winged goose, Red-billed Teal, Yellow-billed duck)
Ad blocker interference detected!
Wikia is a free-to-use site that makes money from advertising. We have a modified experience for viewers using ad blockers

Wikia is not accessible if you've made further modifications. Remove the custom ad blocker rule(s) and the page will load as expected.