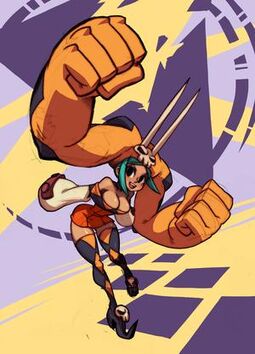 Cerebella is a character in Skullgirls. She is a playable character and is noted for her enourmous strength.
Life Story:
Edit
The biggest sensation in the Cirque des Cartes, Cerebella is a tumbling, soaring dynamo of star power: throughout the Canopy Kingdom, she's admired for her enormous strength and alluring curves. Sadly, this acrobatic orphan only desires the attention of one man, mobster Vitale Medici, who took her in and became the closest thing to a father she's ever known .While inherently good, Cerebella serves the mafia as a leg-breaker when not performing in the circus. Cerebella is the only person capable of controlling her powerful Living Weapon hat, Vice-Versa, so Vitale is stingy with his affections to keep her fighting in his corner.
Ad blocker interference detected!
Wikia is a free-to-use site that makes money from advertising. We have a modified experience for viewers using ad blockers

Wikia is not accessible if you've made further modifications. Remove the custom ad blocker rule(s) and the page will load as expected.