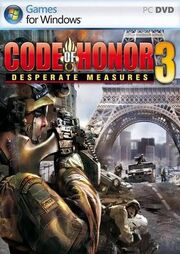 Code of Honor 3: Desperate Measures is a first person action shooter for the PC developed by CITY interactive and rated M. It is the third Code of Honor game.
Join an elite squad of the French Foreign Legion, given by the president an emergency right to operate in France, on its first mission in the country of origin. With a nation-wide social crisis in the background, fight a malevolent crime organization who plans to take advantage of the situation and mount a large scale weapon theft that could destabilize the world.
Ad blocker interference detected!
Wikia is a free-to-use site that makes money from advertising. We have a modified experience for viewers using ad blockers

Wikia is not accessible if you've made further modifications. Remove the custom ad blocker rule(s) and the page will load as expected.