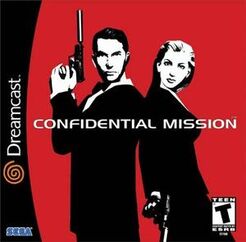 Confidential Mission is a first person shooter for the Dreamcast. It is rated Teen and made by Sega.
A group of terrorists have stolen the World's Collisions satellite,CMF sends two of its agents,Howard Gibson,and Jean Clifford to investigate. They first infiltrate a museum, where they find out "Agares" is behind the plot of stealing the satellite. As soon as they grab the disc with the information,one of the Agares leaders prevent them from getting the disc. After they retrieve the disc, they are sent to a train traveling through the mountains. Irina Mikalova,Satellite programmer, has been kidnapped by Agares and forced to reprogram the satellite, Howard and Jean manage to rescue Irina but are stopped by the General, who is defeated by the two agents. With the help of Irina, CMF locates Agares Headquarters, where the satellite control is being transported to a submarine. Howard and Jean manage to make it through the base and find the Agares Leader, who plans to use the satellite to destroy the CMF Headquarters. After being defeated, the leader uses a self-destruct sequence to defeat the two agents and escaping with the satellite data. The two agents manage to use the satellite to destroy the submarine and the leader. The two agents escape, and CMF is prevented from being destroyed.
Gameplay:

Edit
Straight from the floors of the arcade comes this light-gun shooter that spans three massive locations. Each exotic setting will test your smarts and skills, and there's a comprehensive Training mode to get you up to speed. If you're good enough, you might be able to unlock the secret mode called Another World. You'll begin in a museum, blasting terrorists and building guards who are trying to stop you from getting to a stolen satellite disk. Then, see if you can rescue a programmer who's been kidnapped aboard a train, eventually ending up on Agares' terrorist-riddled submarine for a final showdown. Fans of the James Bond books, films, and games will slip right into the counterspy-themed story and gameplay of this white-knuckle adventure.
Ad blocker interference detected!
Wikia is a free-to-use site that makes money from advertising. We have a modified experience for viewers using ad blockers

Wikia is not accessible if you've made further modifications. Remove the custom ad blocker rule(s) and the page will load as expected.