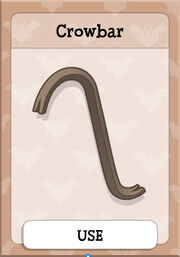 The Crowbar is an item in the game Poptropica. It appears in 24 Carrot Island where it is used to open a door and in Vampire's Curse Island.
Vampire's Curse Island:
Edit
You'll use this to pry the second rock that you'll push to the fountain. You'll also use this to open the closed window in the Armory area. Then use it to open the lock of the door of the castle.
How to Get the Crowbar
Edit
When you enter to the castle ground, there's a tomb with an open doorway here that leads into a mausoleum. Go inside and pick up the book and the crowbar.
Ad blocker interference detected!
Wikia is a free-to-use site that makes money from advertising. We have a modified experience for viewers using ad blockers

Wikia is not accessible if you've made further modifications. Remove the custom ad blocker rule(s) and the page will load as expected.