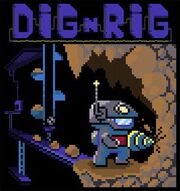 Dig-N-Rig is a 2-D mining simulation created by Digipen students for the PC. In it players dig towards the center of the earth,collect resources and build underground machines.
Synospis:
Edit
Dig-N-Rig takes place in the year 2032, when a team of scientists decide to explore the Earth's final frontier, the core. The player plays as the Diggit 6400, the world's most advanced mining robot. As the player mines, they extract powerful minerals from the Earth and transport them up to their Lab via a custom-built rig system. As the minerals reach the Lab, they are refined into malleable elements. Elements are then used by the player to purchase more rig pieces, upgrades, and items. Along the way, the player will discover rare fossils, encounter ferocious moles, and reach the center of the Earth!
Ad blocker interference detected!
Wikia is a free-to-use site that makes money from advertising. We have a modified experience for viewers using ad blockers

Wikia is not accessible if you've made further modifications. Remove the custom ad blocker rule(s) and the page will load as expected.