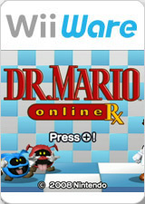 Dr. Mario Online RX is a puzzle game made by Nintendo for the Wii. It is rated E and downloadable off of WiiWare.
Overview:
Edit
Dr. Mario Online Rx is a remake of the classic Dr. Mario puzzler. You can make your Mii appear in place of the Mario characters, and can challenge friends over Wi-Fi. The game includes the Saikin Bokumetsu game from the Japanese Brain Age 2, which can now be play cooperatively with four players.
Reception:

Edit
Dr. Mario Online RX recieved mixed recpetion but IGN gave Dr. Mario Online Rx an 8.5/10, calling the main game "timeless" and the new Virus Buster mode "chaotically awesome". However they were let down by the fact that the main Dr. Mariomode only supported up to 2 players (where some earlier games had supported up to 4) and that Virus Buster was not playable online. Additionally, N-Europe awarded Dr. Mario an 8/10, calling it "the same Dr. Mario that we know and love" with "solid and functional graphics" and addictive gameplay.
Ad blocker interference detected!
Wikia is a free-to-use site that makes money from advertising. We have a modified experience for viewers using ad blockers

Wikia is not accessible if you've made further modifications. Remove the custom ad blocker rule(s) and the page will load as expected.