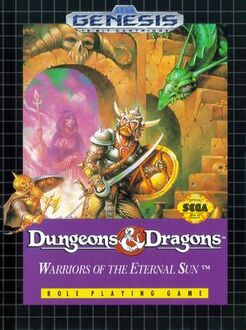 Dungeons & Dragons: Warriors Of The Eternal Sun is a role playing game made by Sega for the Sega Genesis. It is based off the role playing board game Dungeons and Dragons.
Overview:
Edit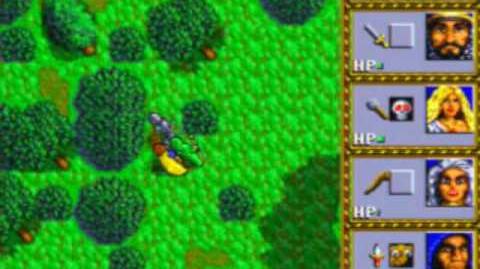 The chill of danger... the sweat of combat... the rush of discovery. It's dynamite D&D on Sega Genesis - alive with sizzling color, graphics and sound. Create your own unique characters from seven classes, including Fighter, Magic User and Elf. Gear up for combat, intrigue, magic - enough for a lifetime! It's the richness of the D&D game, with the power of Sega Genesis. All at once. Your characters have been transported to an inescapable valley. There are mysteries to unravel... risks to face... an evil to be destroyed! Outside, plan the battle tactics from 3-D overhead view. Underground, thrash through hand-to-hand combat in blazing 3-D first-person perspective. Are your characters chased? Lost? Trapped? Find the way out with an auto-mapper that updates their progress. Master the D&D universe. Because now you have the power of Sega Genesis!
Ad blocker interference detected!
Wikia is a free-to-use site that makes money from advertising. We have a modified experience for viewers using ad blockers

Wikia is not accessible if you've made further modifications. Remove the custom ad blocker rule(s) and the page will load as expected.