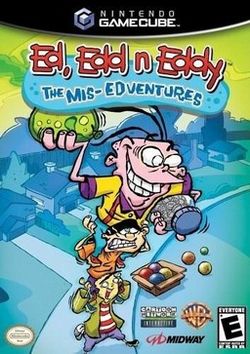 Ed, Edd n Eddy: The Mis-Edventures is a action adventure game for the Xbox, PlayStation 2, GameBoy Advance, PC and GameCube. It is rated T and made by Midway which is now bankrupt. It is based on the Cartoon Network TV Show.
Gameplay:
Edit
MIS-EDVENTURES follows Ed, Edd, and Eddy through yet another of their zany adventures. Gamers will control all three kids throughout the game, switching between them at any point. Each of the three had their own special abilities, and players will need to master each character to get through the puzzle-filled levels. Ed is the powerhouse of the team, able to pick up large objects and move them out of the way. Edd can operate machinery and can make use of different items. Eddy has stealth abilities and is the only character who can use stink bombs to get enemies out of the way. Each of the three also has a unique team-up move that involved all three characters working together. The levels contain the typical insanity often found in the cartoon. On the first level, for example, players have to try to sell a number of snow cones from their snow cone stand; however, to get the business going, players have to steal ice from other characters. There are eight different scams to complete, each of which involves Ed, Edd, and Eddy making use of whatever they can find or steal.
Reception:
Edit
Ed, Edd n Eddy: The Mis-Edventures received moderate reviews for the PS2, GCN, Xbox and the GBA, and negative reviews for the PC. The gaming website IGN gave the game a score of 5.0 for the PS2 version.
Ad blocker interference detected!
Wikia is a free-to-use site that makes money from advertising. We have a modified experience for viewers using ad blockers

Wikia is not accessible if you've made further modifications. Remove the custom ad blocker rule(s) and the page will load as expected.