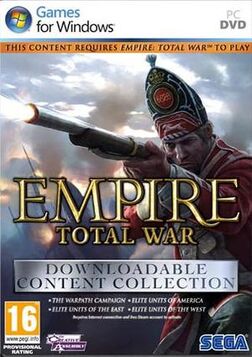 Empire Total War: Downloadable Content Edition is a strategy game for the PC made by Sega. It is part of the Total War series.
Gameplay:
Edit
Expand your Empire experience with 50 of the best elite units and the epic Warpath campaign.
Requires Empire: Total War™ to play.
Includes:
The Warpath Campaign: a brand new campaign for Empire: Total War™.
5 New Playable Factions: Play through the new Warpath Campaign or in multiplayer as one of 5 new American Indian factions.
• A new, more detailed North American Campaign Map featuring new regions and a new start date. • Two new agent types: Shaman and Scout. • 18 new tribal technologies creating a brand new tribal technology tree. • New winning objectives for each of the playable factions.
The Elite Units packs: a collection of 50 new and elite units for all factions
• Includes Elite Units of the West, Elite Units of America and Elite Units of the East unit collections. • Also includes the 6 Special Forces units, the Dahomey Amazons, the Death Head Hussars and the USS Constitution.
Bonus DVD including all the art and videos of Empire: Total War™ and Napoleon: Total War™.
Ad blocker interference detected!
Wikia is a free-to-use site that makes money from advertising. We have a modified experience for viewers using ad blockers

Wikia is not accessible if you've made further modifications. Remove the custom ad blocker rule(s) and the page will load as expected.