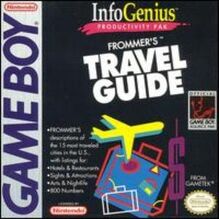 Frommer's Travel Guide is an educational simulation game for the GameBoy made by GameTek. The game is based off the Frommer Travel Books.
Gameplay:
Edit
If you're a frequent traveler, FROMMER'S TRAVEL GUIDE offers descriptions of 15 of the most traveled cities in the United States: Atlanta, Boston, Chicago, Denver, Honolulu, Las Vegas, Los Angeles, Miami or Fort Lauderdale, New Orleans, New York, Orlando, San Francisco, Sante Fe, Seattle, and Washington. All the information has been compiled from the most up-to-date visitor information. The data has been organized and is easy to access. Get details on accommodations, restaurants, attractions, and nightlife in the most traveled cities in the United States with FROMMER'S TRAVEL GUIDE.
Ad blocker interference detected!
Wikia is a free-to-use site that makes money from advertising. We have a modified experience for viewers using ad blockers

Wikia is not accessible if you've made further modifications. Remove the custom ad blocker rule(s) and the page will load as expected.