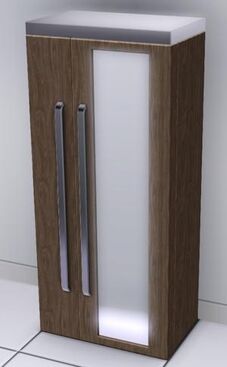 Frosty The Fridge is an item in the video game series, The Sims. It is a type of fridge that was introduced in Sims 3:Generations and has eight hunger points and five enviromental points. It costs $2000. It has appeared in two Sims games.
Description:
Edit
Those who live in glass houses should get a glass refrigerator to match. Keep your food and beverages frosty cold with this frosted-glass front fridge!
Ad blocker interference detected!
Wikia is a free-to-use site that makes money from advertising. We have a modified experience for viewers using ad blockers

Wikia is not accessible if you've made further modifications. Remove the custom ad blocker rule(s) and the page will load as expected.