Fugitive Hunter: War On Terror (released as America's 10 Most Wanted in Europe) is a first person shooter for the PlayStation 2 and PC. It is made by Play IT LTD and rated M. It was released on November 18, 2003 in North America and August 16, 2004 in Europe.
Gameplay:
Edit
The game is a typical first person shooter, featuring arcade-style, third person fights as means of capturing the level-in-question's fugitive.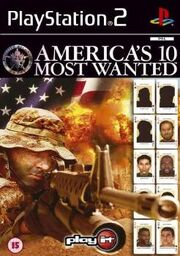 Set in modern day, War on Terror allows players to travel to locales such as Afghanistan, Utah, Paris, and Miami, as they follow a criminal trail that leads all the way to insane president Saddam Hussein and the al Qaeda madman Osama Bin Laden. Features include an extensive behind-the-scenes library of videos, a third-person hand-to-hand mini-game, and 11 different terrorist leaders to hunt down including Bin Laden himself. Available exclusively for the PlayStation 2.
Reception:
Edit
The game was generally received poorly, due to dated graphics and sub-standard gameplay. For example, Scott Rhodie of CNET Australia states "the sound is pathetic, the gameplay terrible, the graphics an embarrassment for a modern game and the premise simply shocking".
Ad blocker interference detected!
Wikia is a free-to-use site that makes money from advertising. We have a modified experience for viewers using ad blockers

Wikia is not accessible if you've made further modifications. Remove the custom ad blocker rule(s) and the page will load as expected.