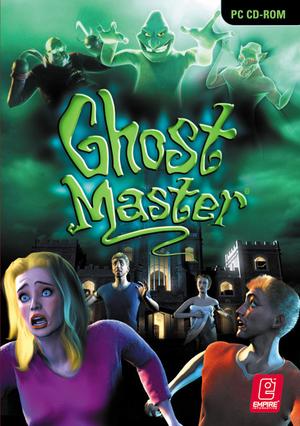 Ghost Master or Ghost Master: The GravenVille Chronicles is a strategy game for the Xbox, PlayStation 2 and PC. It is rated Teen and made by Empire Interactive/Sega. It was a big hit but they never released a sequel, though they did release a Collectors Edition.
Gameplay:
Edit
Grim specters, howling banshees, and sly gremlins are yours to command as you unleash ghastly spirits on the town of Gravenville and scare the wits out of its citizens. In the world of the Ghost Master, spooks do your bidding, as you solve puzzles and unlock mysteries in a challenge that combines the best of strategy, adventure, and resource management games. The game features up to 15 unique, hair-raising adventures with multi-branching scenarios — all within a coherent plot and complete virtual world. Play your way through 11 expansive and distinct locations, including the town's lunatic asylum, military base, sorority and frat houses, and police station.
Reception:
Edit
Ghost Master received generally favorable reviews.
Ad blocker interference detected!
Wikia is a free-to-use site that makes money from advertising. We have a modified experience for viewers using ad blockers

Wikia is not accessible if you've made further modifications. Remove the custom ad blocker rule(s) and the page will load as expected.