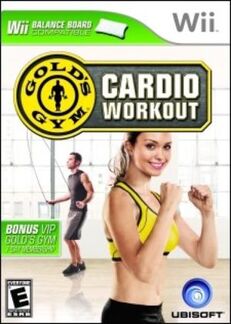 Gold's Gym: Cardio Workout is a sports fitness game for the Wii. It is made by Ubisoft and rated E and is usable with the Wii Motion Plus and Wii Balance Board. The game had a troubled development.
Gameplay:
Edit
Compatible with the Wii Balance Board accessory, the game provides players with a personal training experience. Players can perform a variety of exercises including cardio boxing, running, sit-ups and other activities while also tracking burned calories and body weight evolution. In addition, the game offers multiple training modes and fitness levels, and the difficulty of the gameplay evolves as the player's fitness level increases.
Ad blocker interference detected!
Wikia is a free-to-use site that makes money from advertising. We have a modified experience for viewers using ad blockers

Wikia is not accessible if you've made further modifications. Remove the custom ad blocker rule(s) and the page will load as expected.