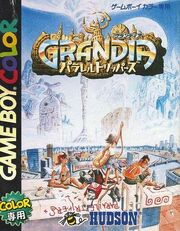 Grandia: Parallel Trippers is a role playing game for the Game Boy Color. It is developed by Hudson Entertianment.
The game follows Yuuhi, a young boy living in Japan who is transported along with his friends Mizuki and Shirou to an alternate version of the Grandia world populated by characters from the original video game. Players must guide Yuuhi around numerous environments to re-unite with his friends and discover a way home.
Ad blocker interference detected!
Wikia is a free-to-use site that makes money from advertising. We have a modified experience for viewers using ad blockers

Wikia is not accessible if you've made further modifications. Remove the custom ad blocker rule(s) and the page will load as expected.