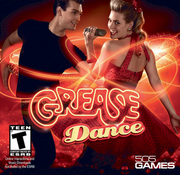 Grease Dance is a dancing\party game for the Xbox 360 Kinect and PlayStation 3 Move. It is rated Teen and made by 505 Games. It is the sequel to Grease and based off the songs in the movie.
Synospis:
Edit
Get ready for those "Summer Nights" with a return to Rydell High! Grease utilizes the Kinect's motion sensor technologies to deliver the ultimate Grease experience. Sing, dance and party your way through the officially licensed music and all the memorable choreography from the movie along with Barry, Sandy and the rest of the Grease gang.
Ad blocker interference detected!
Wikia is a free-to-use site that makes money from advertising. We have a modified experience for viewers using ad blockers

Wikia is not accessible if you've made further modifications. Remove the custom ad blocker rule(s) and the page will load as expected.