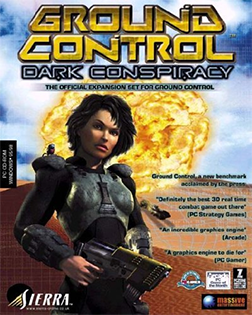 Ground Control: Dark Conspiracy is a expansion pack to the PC strategy game by Sierra Studios. It is rated Teen.
Synospis:
Edit
If you already own GROUND CONTROL, you're ready to take the adventure to the next level with this incredible expansion. This time, the struggle is against the efforts of the doomsday cult, Order of the New Dawn. You'll play as the tandem of Jarred Stone and Sarah Parker, taking on 15 new single-player missions. There's a new faction to play as in this update, and a new gameplay engine to make things even more exciting. Can you put an end to the conspiracy and stop the bloody Battle of Krig B? Let's all hope so. This is real-time strategy at its best.
Ad blocker interference detected!
Wikia is a free-to-use site that makes money from advertising. We have a modified experience for viewers using ad blockers

Wikia is not accessible if you've made further modifications. Remove the custom ad blocker rule(s) and the page will load as expected.