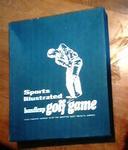 Handicap Golf is a sports game for the ZX Spectrum and Commodore 64 that was in a Sports Illustrated Magazine. The game is very rare.
Gameplay:
Edit
This game provides you with the opportunity of playing 18 of the greatest holes in America using your own personal handicap to reflect how you might actually play these holes. Each game includes 5 playing boards, an exclusively designed Distance and Direction Finder, 8 ply action handicap folders, 4 golf "balls". 
Ad blocker interference detected!
Wikia is a free-to-use site that makes money from advertising. We have a modified experience for viewers using ad blockers

Wikia is not accessible if you've made further modifications. Remove the custom ad blocker rule(s) and the page will load as expected.