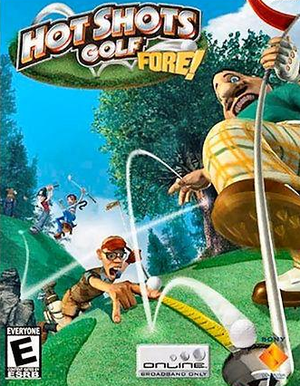 Hot Shots Golf Fore is a golfing sports game for the PlayStation 2 made by Sony. It is rated E.
Overview:
Edit
Hot Shots Golf Fore!, known as Minna No Golf 4 in Japan, is the fourth if the wacky, absurd but lovable and deep arcade golf game series first created by developer Camelot and now handled by Clap Hanz. This new version delivers more realistic physics, better graphics, more golfers, caddies and courses than before, miniature golf games, and online play. The developers increased the overall number of characters from 15 to 24 (that's 23 people and one animal), added more caddies (10 in all, two of which are animals)m and boosted to courses from six to 15. Of these 15 courses, 10 are new, while five are returning favorites from the previous game. As part of its online offering, the game also features a Tournament mode where up to 32 players can compete against each other.
Everybody's Golf implements the "Everybody's Points" system where players earn and spend points to unlock new gear and extras. Several different modes of play are available and include Tour (full season of tournaments), Tournament (plug and play instant action mode), VS Mode (challenge golfers to unlock new characters/costumes) and Training (in game tutorial mode). In addition, there are two online play modes: Head to Head (one on one play with another player) and Real Time Tournament (real time online golf tourneys). The North American and European versions included online play while Japanese did not. The North American online play servers were shut down as of June 30, 2008.
First Hot Shots game with cameos
First Hot Shots game with online component
Ad blocker interference detected!
Wikia is a free-to-use site that makes money from advertising. We have a modified experience for viewers using ad blockers

Wikia is not accessible if you've made further modifications. Remove the custom ad blocker rule(s) and the page will load as expected.