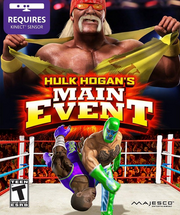 Hulk Hogan's Main Event is a wrestling game by Majesco for the Xbox 360 Kinect. The game is rated Teen and was one of the lowest rated games of 2011 recieving a 1.0 out of 10 from Game Informer which is one of thier lowest scores ever.
Gameplay:
Edit
Utilizing the Kinect motion sensor, Hulk Hogan's Main Event is the first performance-based wrestling game, letting players train with mentor Hulk Hogan as they build their own wrestling personalities and learn the art of showmanship to win over the crowd. Players will learn the ropes from the man himself as Hulk Hogan schools them on delivering the best show for the crowd by emulating famous Hulk poses and performing more than 30 punishing combos. The Kinect sensor tracks players' every move; the more dynamic the motion, the more high impact the wrestler's performance is. Players will create their own unique wrestler personality through a robust create-a-wrestler feature including many choices for face, hair, tattoos, outfit, ethnicity, body type, and entrance music. Perform in nine different venues including the backyard brawl, local gym and giant stadium in front of a massive audience. Enter tournament mode for two player tag-team and take turns delivering extreme moves. Best of all, players can wield a variety of damaging objects including metal chairs and ladders to deliver bone-jarring hits to their opponents.
Ad blocker interference detected!
Wikia is a free-to-use site that makes money from advertising. We have a modified experience for viewers using ad blockers

Wikia is not accessible if you've made further modifications. Remove the custom ad blocker rule(s) and the page will load as expected.