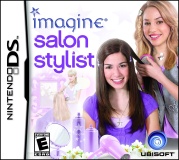 Imagine: Salon Stylist is a game in the Imagine series. It is created by Ubisoft and is available on the Nintendo DS.
Gameplay:
Edit
Express your creativity as a famous hair and makeup stylist as you manage your very own beauty salon! You get to run their own beauty salon, developing your clientele and reputation as you make your customers beautiful in your own salon!
Ad blocker interference detected!
Wikia is a free-to-use site that makes money from advertising. We have a modified experience for viewers using ad blockers

Wikia is not accessible if you've made further modifications. Remove the custom ad blocker rule(s) and the page will load as expected.