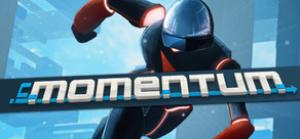 inMomentum is a platformer puzzle racing game for the PC. It is made by White Rabbit Interactive and was released on Steam.
Gameplay:
Edit
InMomentum is about creativity and freedom of movement. This a movement-based running and jumping game is based on two simple actions which increase momentum each time used. With those actions, you have to master certain levels, find secret items and succeed in challenges -- all available in single player and multiplayer mode.
InMomentum will have a level editor released in the near future which will allow community members to create and share maps with the top voted maps being officially supported by the developers and released in a DLC pack including leader-boards for those maps.
Ad blocker interference detected!
Wikia is a free-to-use site that makes money from advertising. We have a modified experience for viewers using ad blockers

Wikia is not accessible if you've made further modifications. Remove the custom ad blocker rule(s) and the page will load as expected.