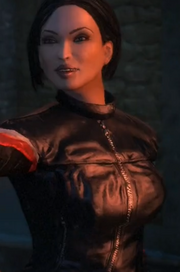 Jade Tan is a character is Just Cause 2. She works as a spy in the game and helps Rico Rodriguez in his mission of riddin the island of Panau it's historic leader. She usually works undercover.
She was born in 1981.
Besides not bieng Japanese she sounds like she has a Japanese accent in the game.
Ad blocker interference detected!
Wikia is a free-to-use site that makes money from advertising. We have a modified experience for viewers using ad blockers

Wikia is not accessible if you've made further modifications. Remove the custom ad blocker rule(s) and the page will load as expected.