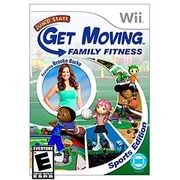 JumpStart Get Moving: Family Fitness Sports Edition Featuring Brooke Burke is a fitness Wii game developed by Knowledge Adventure Inc. It is rated E for everyone.
Get your family moving and find how fitness can be fun!For years, JumpStart has been creating the best learning games for kids. Now, with Get Moving Family Fitness, JumpStart is making fitness fun too! Discover the ultimate family sports game with fitness expert and mom of 4, Brooke Burke. With more than 15 sports challenges in 11 exotic arenas, Get Moving is the fun, new way to keep your family active!
Ad blocker interference detected!
Wikia is a free-to-use site that makes money from advertising. We have a modified experience for viewers using ad blockers

Wikia is not accessible if you've made further modifications. Remove the custom ad blocker rule(s) and the page will load as expected.