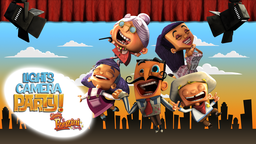 Lights, Camera, Party! is a party game for the PlayStation 3. However when you play it you have to use the PlayStation Move controller because it is exclusive to that.
Story Mode:
Edit
In the primary Story mode, up to four players guide the Funzini family through five rounds, each modeled after a type of TV show (cooking, news, sci-fi, and so on) that contain up to 24 fast-paced mini games. Other modes support up to eight players and feature selections of Lights, Camera, Party!'s 50 mini-games in a variety of challenging formats. With only one Move controller required to play, it keeps the whole family on their feet and frantically passing the controller between fits of laughter. You and the controller are always moving, keeping everybody engaged and tensely waiting for their chance to blast alien ships, whack piñatas, escape rabid dogs, and save the family!
Ad blocker interference detected!
Wikia is a free-to-use site that makes money from advertising. We have a modified experience for viewers using ad blockers

Wikia is not accessible if you've made further modifications. Remove the custom ad blocker rule(s) and the page will load as expected.