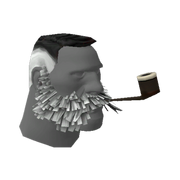 Lord Cockswain's Novelty Mutton Chops and Pipe is a miscellaneous item for the Soldier in Team Fortress 2. It is a novelty beard (specifically mutton chops, as the title suggests) and an old-fashioned pipe. It was added during the Groordbord's Victory Pack. It is available in different colors.
 Lord Cockswain is an incompetent and over-confident hunter of otherwordly big game, and a recurring character on Dr. Grordbort's website. He is also the main character of Dr. Grordbort's Science Mystery Theatre.
Ad blocker interference detected!
Wikia is a free-to-use site that makes money from advertising. We have a modified experience for viewers using ad blockers

Wikia is not accessible if you've made further modifications. Remove the custom ad blocker rule(s) and the page will load as expected.