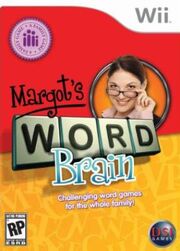 Margot's Word Brain is a puzzle\word game for the Wii and Nintendo DS. It is developed by DSI Games and is rated E10+.
Gameplay:
Edit
Meet Margot, the new videogame queen of word play! Margot has devised a set of six fiendish and compelling word-based puzzles to test your vocabulary, spelling and general language skills. No two games will ever be the same as you wrack your brain against the clock to create words from randomly-generated letters in order to score maximum points.
Ad blocker interference detected!
Wikia is a free-to-use site that makes money from advertising. We have a modified experience for viewers using ad blockers

Wikia is not accessible if you've made further modifications. Remove the custom ad blocker rule(s) and the page will load as expected.