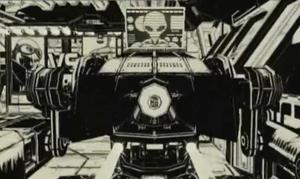 Martin is a boss in the Wii game MadWorld. He is a giant mech\robot controlled by an alien. He is the game's penultimate boss.
"One Destructible target found."
"Fire Missiles!" (Heard when Martin prepares to launch a missile at Jack during the power struggle)
"Heavy DAMAGE!!!" (Heard when missile crashes at Martin from behind)
"F*** YEW, F*** YEW, F*** YEW, F*** YEW, F*** YEW, F*** YEW..." (Heard while Martin is riding one of his missiles)
"F*** you f***!"(Heard after hit)
Ad blocker interference detected!
Wikia is a free-to-use site that makes money from advertising. We have a modified experience for viewers using ad blockers

Wikia is not accessible if you've made further modifications. Remove the custom ad blocker rule(s) and the page will load as expected.