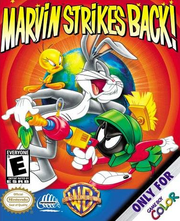 Marvin Strikes Back is a action game for the Game Boy Color made by Atari. It is rated E.
Gameplay:
Edit
You'll help Marvin solve numerous puzzles and overcome all sorts of obstacles throughout the game's ten-plus levels of side-scrolling action. The object is to collect all of the necessary items before the other Warner Bros. gang catches you, and evading them won't exactly be a stroll in the park. 
Ad blocker interference detected!
Wikia is a free-to-use site that makes money from advertising. We have a modified experience for viewers using ad blockers

Wikia is not accessible if you've made further modifications. Remove the custom ad blocker rule(s) and the page will load as expected.