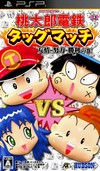 Momotarou Dentetsu Tag Match: Yuujou - Doryoku - Shouri no Maki! is a Japanese puzzle game for the PlayStation Portable. It is made by Hudson Soft and was released on July 15, 2010. It is also downloadable off of the PlayStation Network. Both copies of the game, downloadable and retail, are only available in Japanese regions.
Ad blocker interference detected!
Wikia is a free-to-use site that makes money from advertising. We have a modified experience for viewers using ad blockers

Wikia is not accessible if you've made further modifications. Remove the custom ad blocker rule(s) and the page will load as expected.