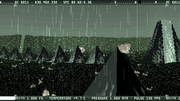 Noctis is an open world flight simulator on the PC developed by Home Sweet Pixel an indie company.
Gameplay:
Edit
The game is not like a regular flight simulator instead of achieving goals for reaching new places and crashing into objects, you name star systems absorb fuel and land on planets to see other life forms.
Ad blocker interference detected!
Wikia is a free-to-use site that makes money from advertising. We have a modified experience for viewers using ad blockers

Wikia is not accessible if you've made further modifications. Remove the custom ad blocker rule(s) and the page will load as expected.