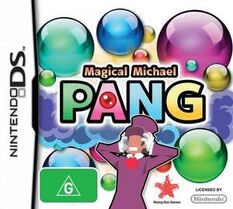 Pang: Magical Micheal is a puzzle game based off the Pang series for the Nintendo DS. It is rated E and made by the Mitchell Corporation.
Overview:
Edit
Michael, an aspiring young magician, has failed an experiment - leading to dire consequences. Balloons have been dispersed, causing trouble to landmarks and cities all around the world. Now, Michael must travel the globe to destroy these balloons and clean up his mistake, before it's too late.
Celebrating 21 years since the original game blasted onto the arcade scene, Pang returns with all the addictive gameplay that made it so popular, now on the Nintendo DS. With the same simple premise and addictive gameplay, Pang: Magical Michael continues to define what lead the series to critical acclaim, cementing its position as one of the most cherished properties in videogame history.
Ad blocker interference detected!
Wikia is a free-to-use site that makes money from advertising. We have a modified experience for viewers using ad blockers

Wikia is not accessible if you've made further modifications. Remove the custom ad blocker rule(s) and the page will load as expected.