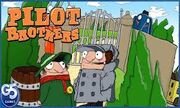 Pilot Brothers: On The Track Of Striped Elephant is a point and click adventure\strategy game for the PC made by Gamos Ltd.
Overview:
Edit
A rare striped elephant named Baldakhin has disappeared from a zoo in a provincial Russian town. The main suspect is a notorious animal trainer Karbofoss. Controlling two Pilots brothers - Brother Chief and Brother Colleague - you must find the missing animal, and perhaps also to save the world.
The game can be best compared to Gobliiins, being a puzzle game with a plot. There are 15 levels in total. You must solve all the puzzles on a given level, manipulating objects and using the special abilities of the two brothers, in order to proceed to the next level. There are also some semi-arcade parts where precise timing is necessary. The 256 color graphics resemble classic cartoon-style adventures.
Ad blocker interference detected!
Wikia is a free-to-use site that makes money from advertising. We have a modified experience for viewers using ad blockers

Wikia is not accessible if you've made further modifications. Remove the custom ad blocker rule(s) and the page will load as expected.