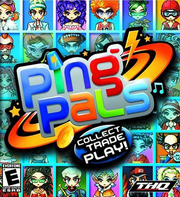 Ping Pals is a chat simulation game for the Nintendo DS. It is rated E and made by THQ. It was critized upon release because the DS already has a chat program pre installed.
Gameplay:
Edit
Items can be unlocked by trading with other players or buying them in a shop. Players must trade to complete their collections, as each cartridge's shop offers a different subset of the items. Players receive a regular allowance of coins, using the DS' date-keeping functionality, and can get more by playing mini-games (such as Guess the Number and Hot Potato), typing certain secret words in chat (each word works once per file) and even for choosing to display the credits screen more than once.
Up to 16 players can play wirelessly using one game cartridge; each must be within about 100 feet (30 m) of one of the others to exchange text and picture messages.
Reception:
Edit
Ping Pals recieved mostly negative reception with a 3.5 from IGN and a 0.5 from EGM.
Ad blocker interference detected!
Wikia is a free-to-use site that makes money from advertising. We have a modified experience for viewers using ad blockers

Wikia is not accessible if you've made further modifications. Remove the custom ad blocker rule(s) and the page will load as expected.