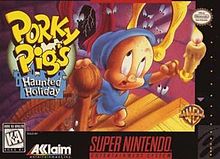 Porky Pig's Haunted Holiday is a action platformer for the SNES rated E. It was released on October 30 1995 and is made by Acclaim.
Overview:
Edit
Porky Pig's Haunted Holiday is a sidescrolling platformer, in which the player guides Porky Pig through several of his nightmares. These nightmares include a forest, a western town, Atlantis, a mine, the Alps, and a castle. This title was notable for being the only game starring Porky Pig, as well as for its unique weather system, in which the weather cycles through seasons.
Ad blocker interference detected!
Wikia is a free-to-use site that makes money from advertising. We have a modified experience for viewers using ad blockers

Wikia is not accessible if you've made further modifications. Remove the custom ad blocker rule(s) and the page will load as expected.