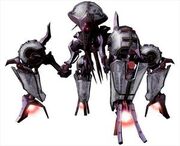 Quadraxis is a boss in Metroid Prime 2:Echoes. It is a robot.
Quadraxis' head possesses three "eyes" connected to form a triangle. This symbol, resembling the Luminoth letter "F", is found on many other artifacts of that species, and on the Luminoth themselves.
Disassembled parts of Quadraxis can be seen scattered throughout the Fortress Temple entrance, suggesting that the Luminoth were in the process of making more than one.
In the recent blockbuster "Prometheus" by Ridley Scott, the spaceship Prometheus strongly resembles Quadraxis, especially when you look at the knee joints.
Ad blocker interference detected!
Wikia is a free-to-use site that makes money from advertising. We have a modified experience for viewers using ad blockers

Wikia is not accessible if you've made further modifications. Remove the custom ad blocker rule(s) and the page will load as expected.