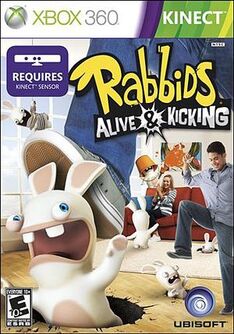 Raving Rabbids: Alive And Kicking is a party game rated E10+ for the Xbox 360 Kinect made by Ubisoft. It is part of the Rabbids series.
Overview:
Edit
he Rabbids have already invaded the past, the world, your TV, and the moon. They've invaded our daily lives for years, and you've never really considered them to be a serious threat. You just never imagined that they could even possibly be ... real. Well, you were wrong!! They really do exist!
With Raving Rabbids: Alive & Kicking and Kinect, you will see them with your own eyes... Rabbids will come to life right in your own home, coming out from the floor and interacting with you through ridiculous and humorous physical challenges. Go face to face against the Rabbids with all your friends by jumping, rolling, twisting, contorting, slapping, and dancing in the the craziest and most insane moves and situations ever imagined in the series through tons of new mini-games. Watch as the Rabbids mess with your life in front of your very eyes!
Reception:
Edit
Rabbids: Alive and Kicking got mixed to negative reviews. Mitch Dyer from IGN stated in his review, "Imprecise controls ruin the uncomplicated games. It started out unfulfilling and didn't get much better. It's the kind of mindless thing I'd load up on my phone for five minute bursts. At home I'd rather be doing anything else." Gamespot gave the game a 4.0 "poor" rating, criticizing the "weak visuals" and "tedious navigation."
Ad blocker interference detected!
Wikia is a free-to-use site that makes money from advertising. We have a modified experience for viewers using ad blockers

Wikia is not accessible if you've made further modifications. Remove the custom ad blocker rule(s) and the page will load as expected.