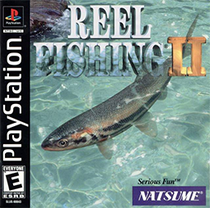 Reel Fishing II is the sequel to Reel Fishing. It is a sports fishing game and is rated E. It is made by Natsume and for the original Playstation. It was released on June 14 2000.
Gameplay:
Edit
The main menu gives an options menu, Free mode, and Season mode. The game menu is the Aqua Lodge, in which the player may view records, tackle, and a fishing magazine which gives monthly tips and news. In the tank room, the player can care for and watch caught fish.
Gameplay consists of a full motion video background and a point of view from the boat. The player may cast anywhere into the play area, but may not move. Some areas may have different spots with different assortments of "hotspots" and a different current.
Once a fish has "bitten," the screen shifts to an 3d underwater view and the player must either entice the fish using a lure, or wait for fish to arrive using bait. The hook must be set at the right time, and the fish must be fought to the surface. At the time it reaches the surface, it is automatically brought onto the shore and size is calculated.
Reel Fishing II contains two modes of fishing: "Season," and "Free."
In "Season" mode, the player starts with two areas available, Ocean Variety and Carp fishing, but will unlock more. Time progresses in months, and the player is limited on time during fishing. Players unlock new areas by meeting the goals of unlocked areas. Tackle is unlocked upon each visit.
In "Free" mode, the player can fish in any unlocked area with any unlocked tackle. There is no time limit, and the month can be selected before fishing. As there are no goals, nothing can be unlocked. Scores will still be kept.
Ad blocker interference detected!
Wikia is a free-to-use site that makes money from advertising. We have a modified experience for viewers using ad blockers

Wikia is not accessible if you've made further modifications. Remove the custom ad blocker rule(s) and the page will load as expected.