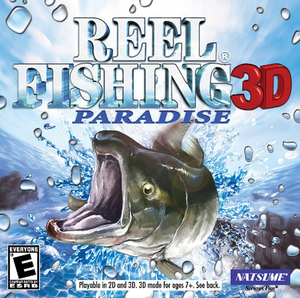 Reel Fishing Paradise 3D is a fishing simulation game developed by Natsume for part of the Reel Fishing series. It is rated E and for the Nintendo 3DS.
Overview:
Edit
In Reel Fishing Paradise 3D, players will travel to over a dozen stunning fishing locales in their quest to become master anglers.
They'll fish tranquil lakes, rocky coasts, flooded forests, and more, all rendered in eye-popping 3D that brings every leaping fish and splash of water to life. A huge variety of fish will test the expertise of even the most seasoned fishing veterans, from wily largemouth bass to powerful bluefin tuna. Players can mix-and-match rods, reels, lines, lures or bait to create their own personalized tackle box -- collecting rare items is both advantageous and addictive, with tons of gear to discover and use. With so much to see and do, Reel Fishing Paradise 3D is a game guaranteed to draw players into its depths!
Ad blocker interference detected!
Wikia is a free-to-use site that makes money from advertising. We have a modified experience for viewers using ad blockers

Wikia is not accessible if you've made further modifications. Remove the custom ad blocker rule(s) and the page will load as expected.