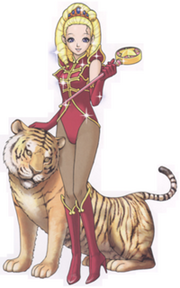 Regina Berry is a character in the Ace Attorney franchise. She is sixteen years old and is a circus tamer. She appears in the episode "Berry Big Circus" which is named after her last name. She is a witness. She has appeared in two Ace Attorney games.
"Regina" comes from the Latin word for "queen" or "princess". It may have been chosen due to her father doting on her or due to her tiara and scepter; possibly those accessories along with her name were meant to show her relationship with her father.
"Berry" was likely chosen for the pun-based name of her father's circus (Berry/Very Big Circus).
Ad blocker interference detected!
Wikia is a free-to-use site that makes money from advertising. We have a modified experience for viewers using ad blockers

Wikia is not accessible if you've made further modifications. Remove the custom ad blocker rule(s) and the page will load as expected.