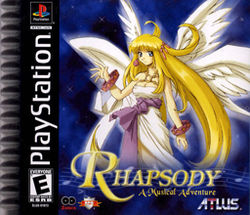 Rhapsody: A Musical Adventure is a music role playing adventure game made by NIS and Atlus for the PlayStation. It is rated E. Rhapsody was later re-released on the PlayStation Portable and PlayStation 3.
Overview:
Edit
When Cornet lost her parents at an early age, she acquired the uncanny ability to control puppets. Her strong, independent will has led her to meet a friendly prince, but when he disappears under mysterious circumstances, Cornet's real adventure begins. You control Cornet as she travels to every corner of the kingdom making friends and encountering vicious attacks and betrayals in her quest to find the prince. There are many dungeons to avoid, vicious boss characters to battle, and mysteries to solve in this combination role-playing and action epic. As the title implies, songs will play a huge role in Cornet's escapades, as each tune holds the clues to the questions she'll need to answer to advance her cause. As the game progresses new levels, events, and songs will become available and you'll be able to replay your favorite songs and moments at any time. Succeeding in the game requires building up a great puppet force, and allies are likely to be found in the oddest places: graveyards, ancient ruins, and junkyards, among other locales. Presenting an enormous, mature new format, RHAPSODY will take you places you've never even dreamed of.
Reception:
Edit
Considered to be a sleeper hit and cult classic among role-playing games, Rhapsody appeals largely to a small demographic within the larger console RPG fanbase, even considered a novelty of the genre. Its lighthearted approach, distinctly female perspective, relatively brief playtime (it can be completed in approximately 10 hours normally, and in five hours if rushed, whereas most RPGs span 30+ hours) and generally challenge-soft gameplay are factors that have contributed to both its limited success among the mainstream, and intense popularity within its smaller fanbase.
Ad blocker interference detected!
Wikia is a free-to-use site that makes money from advertising. We have a modified experience for viewers using ad blockers

Wikia is not accessible if you've made further modifications. Remove the custom ad blocker rule(s) and the page will load as expected.